Hello from the United States! We are back in Minnesota for the first visit in exactly a year. I can't believe we've been away for so long, but the first year seemed to really fly by….
Although its a long (albeit direct) flight from London to Minneapolis, I do hope we come back more than once a year going forward.
Here's how this past week went in training for the Dublin marathon (and in life overall!)
Monday: 7 mile run before work; small summer party after work at a colleague's beautiful home in Shephard's Bush (West London)
Tuesday: Run commute to work- 4.5 miles, then a social 5k with the office group, 3.2 miles for 7.7 miles total. Strength training after work.
Wednesday: 6 mile run before work
Thursday: 7 mile run before work with Ruth. Strength training after work.
Friday: Flight to Minneapolis! We flew direct from London Heathrow to Minneapolis/St. Paul.
We landed around noon local time. It was weird being back in our house after a year away; I felt so many emotions- way more homesickness than I expected. There are so many memories tied up in the house that we lived in for 14 years. So many projects; we've done so much work to it. We also left last summer right after my mom died, so it felt like I left some of that grief in the U.S. and was able to distract myself with the excitement of moving to London. But then stepping back into our house was…overwhelming.
Combine the emotions of being home with jet lag and I was pretty emotional. Don't get me wrong, I am REALLY enjoying our London experience, but we did step away from a life that I really enjoyed in Minneapolis too!
I had planned to use the travel day as a rest day, but I decided to go for a short run around 3 pm- in the heat of a July afternoon of course- around Bde Maka Ska. It really did help clear my head- that's one of the many things I love about running. Though a lap of the lake made me feel quite nostalgic too!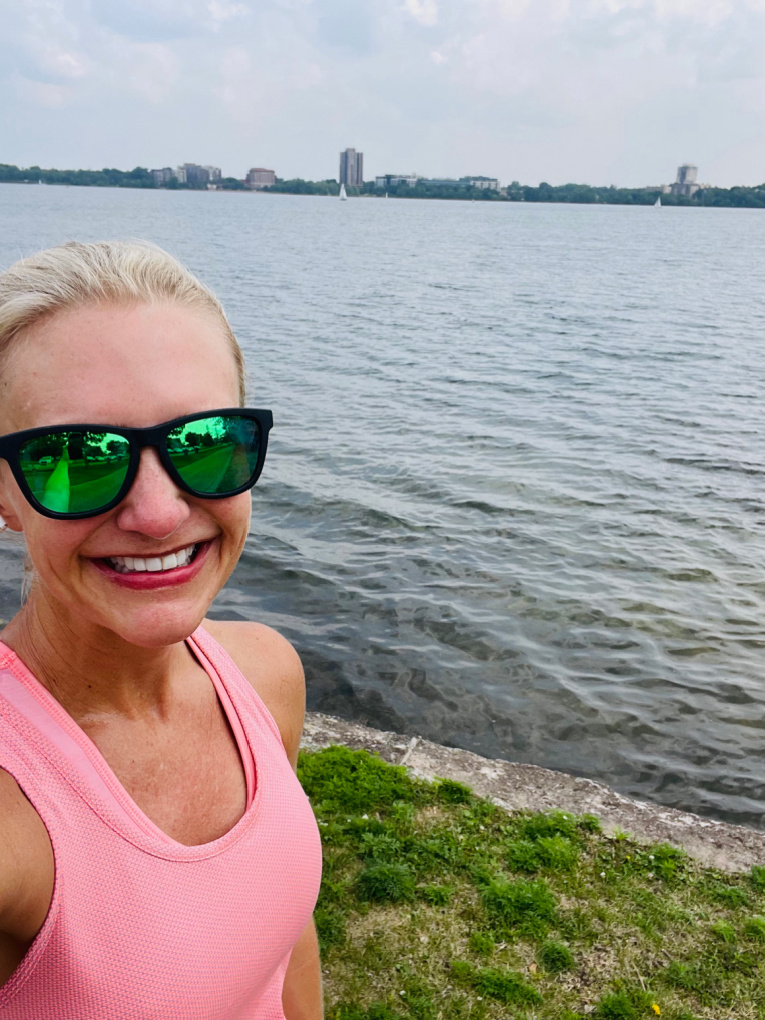 Later that evening, Dustin and I grabbed dinner at Pizzeria Lola, one of our old favorite spots. Just as good as I remember!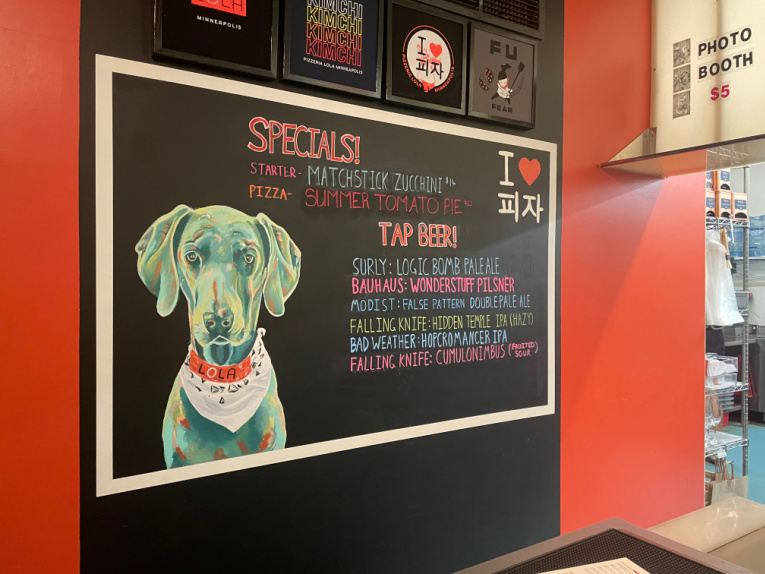 I barely stayed awake until 8 pm and then crashed hard.
Saturday: Nostalgic Minneapolis lakes run with some old running friends!
The sky was quite hazy from the wildfires…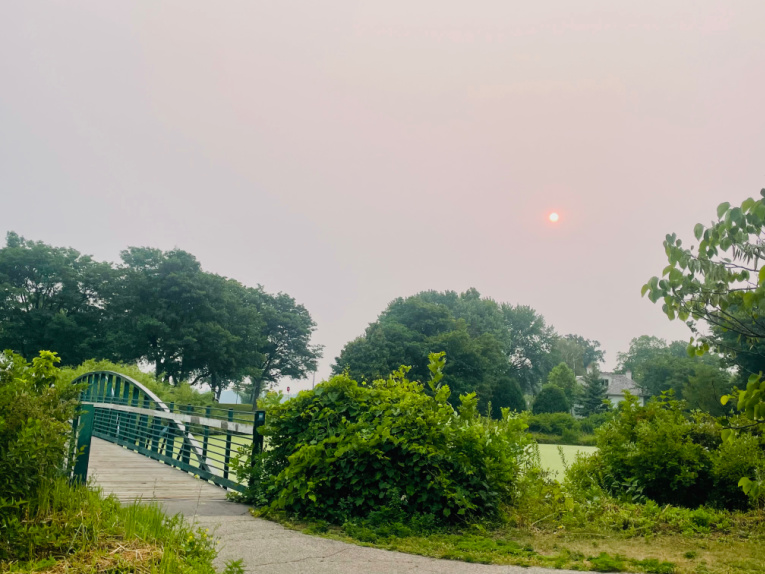 We met early, as Minnesota summers are hot and humid. We ran Bde Maka Ska and Lake Harriet, and then down Minnehaha Parkway to the bunny. It's been awhile since I visited Peter Cottontail on the Trail! Missed you old friend.
15 mile long run done.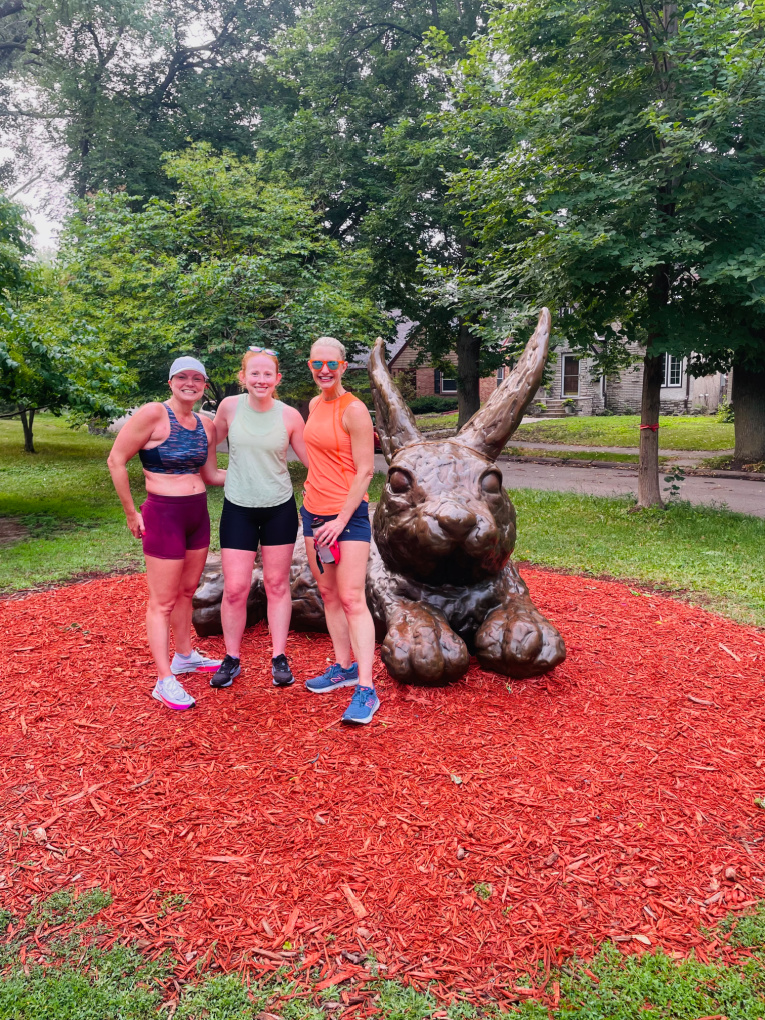 After the long run, Dustin and I packed up some smaller bags, grabbed a quick lunch at Zumbro in Linden Hills, stopped at the Athleta store at 50th/France (can't buy Athleta in London!) and then drove up to the cabin to spend time with Dustin's family.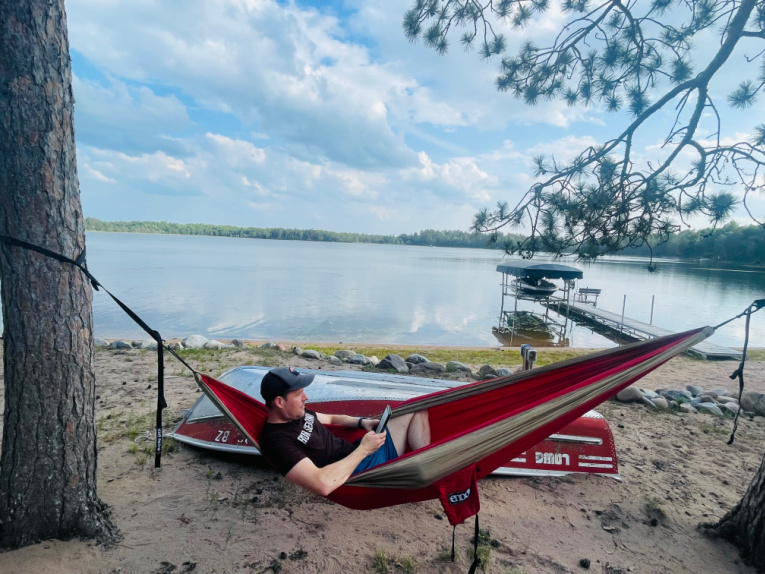 Sunday: With Dustin's injury, I am on my own for cabin running. I'm heading out shortly for a run and will come back to update this post. Hoping to manage a 10k.
Summary: 52 miles of running, daily core, 2 days of strength training. I actually decided to cancel my subscription to Kim Runs the Mitten's strength training; it's a good program, but I wasn't feeling it at the moment, so I think I'll stick with Peloton and free Caroline Girvan workouts on youtube for now.
In other news, Matilda got a puncture wound on her leg that the vet said came from grass seed. Apparently this is quite common in London. Of course, she's a dog, and she kept licking it, so she has to wear a cone for awhile as it heals, as well as take an antibiotic and an anti-inflammatory. Poor thing! I swear, every time we travel, something happens to the pups right before we leave…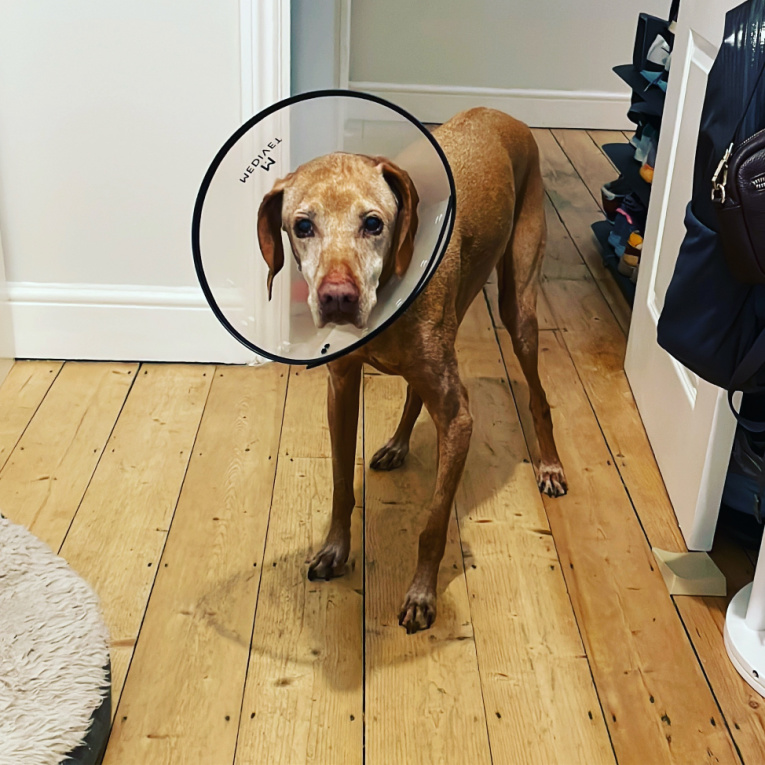 In brighter news, I scored tickets to see Taylor Swift during her Europe tour in Lisbon, Portugal! I did not have as good of luck on the London tickets yet- I'm on the waitlist, but I do have a friend who got a presale code, so hopefully she gets 4 tickets. Fingers crossed!
And here are a few pictures from Ruth's doggy daycare in the English countryside. So happy she has this great place to go to twice a week!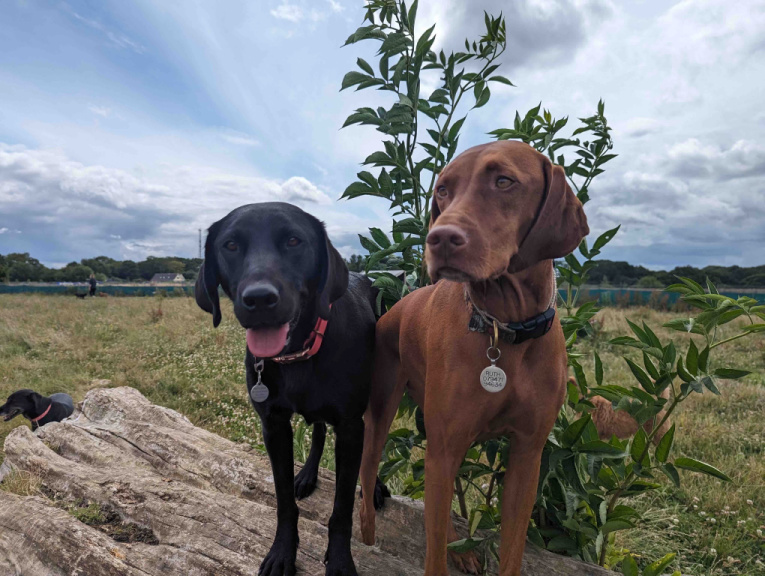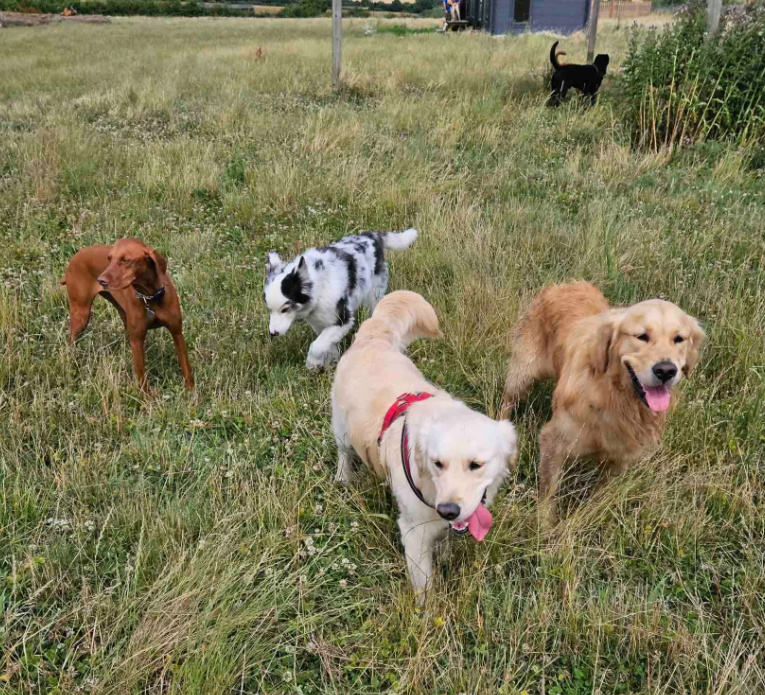 I'm linking up with Running on the Fly and Confessions of a Mother Runner; check out their blogs to connect with other fitness bloggers for workout ideas and inspiration!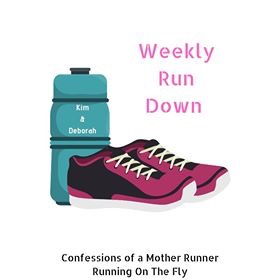 (Visited 18 time, 18 visit today)



Credit : Source Post